Residents at our Princess Street flats have proved what a difference a day makes. In just 12 hours, they've transformed a stretch of concrete wall into an inspiring piece of art.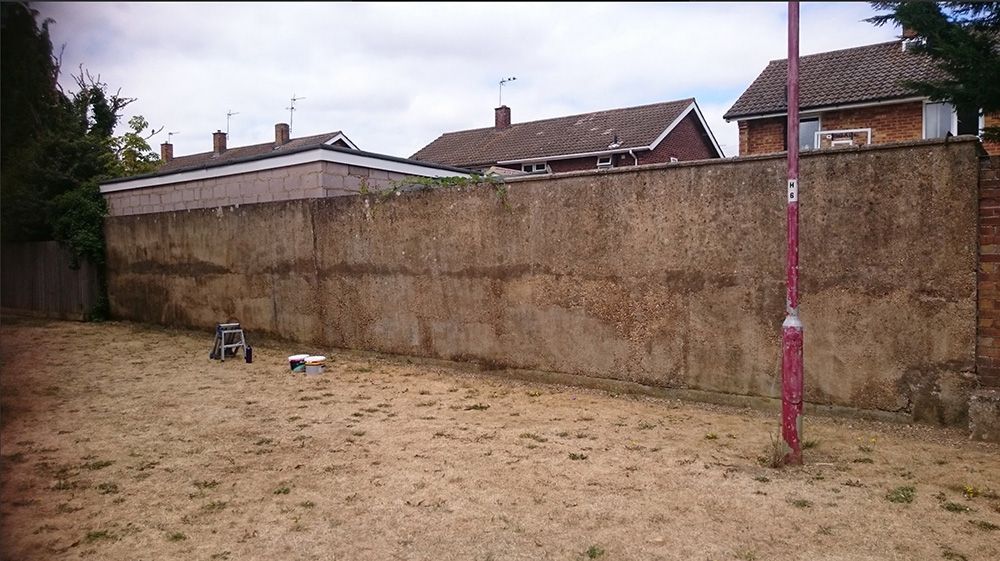 Professional artist, Samantha Fox (24), came up with the idea. Having grown up in the flats, Samantha now lives in Cambridge and works as a clinical scientist as well as a freelance artist.
Samantha says: "I left the area when I was 18 to go to university and then moved to Cambridge. My mum and sister still live in Princess Street and I love coming back home. Things have changed a bit since I was a child growing up here. Work has been done to improve the area and it feels like a nicer place to live."
A blank canvas
Samantha says that despite the improvements, the wall running along the border with Mount Pleasant remained untouched. "When you looked out of my mum's kitchen window, that's all you'd see – an ugly-looking wall. But as an artist, I also saw a blank canvas begging for colour, creativity and perhaps a bit of storytelling."
Samantha contacted bpha to ask for permission to do the work. She says: "It was important for the residents to drive this project too. Those I'd spoken to were keen to get involved so I was delighted when bpha not only gave us the go ahead, but also said my mum could apply for a bpha Cash 4 Your Community Grant, which was awarded. Brewers Paint Merchants donated paint and equipment, so with their support and the bpha grant, we were able to make the project come alive. I just had the insurance to pay for."
Residents keen to get involved
Around 50 residents got involved in the project. Everyone worked together creating the design, preparing the 50 square foot wall and then doing the painting. Samantha added: "We worked to the theme of 'Clapham and the Community' with the design reflecting the rich cultural diversity of the community. So as well as showing aspects of community life, we've also included some Arabic writing, a world map and a selection of national flags.
"There's been such a great reaction from local residents, with people of all ages wanting to get involved – from toddlers to pensioners. And the speed at which we've managed to do the work shows how eager everyone was to see it finished. I thought it might take a week to do the painting. But after two days preparing the wall, it took just one day!
"It's been a brilliant project to be involved in. Not only do we have some street art designed by local people, but I've seen some new friendships made along the way too."